So what sets SPW apart from the competition?  Apart from their five-star service it is their attention to craftsmanship.  The difference is in the details:
Stacked edges – SPW Surfaces stacks all of their edges.  This provides plenty of surface area for the adhesive to make a good bond providing for a much stronger edge over on that just has a single drop edge.  When you are choosing a fabricator be sure you ask what type of edge they use to make sure you are getting a stacked edge that can endure the test of time.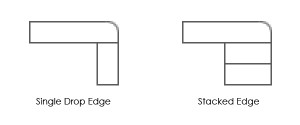 Strapping all seams (shop and field) – At SPW Surfaces every seam gets a strap.  A strap is an additional piece of solid surface material that is adhered to the bottom of the countertop where two pieces of material are seamed together.  This strap adds strength to the joint so it does not crack or come apart.  Since straps are not an item you can see from the top of the countertop, sometimes they are left out due to the fact they add extra cost and labor to a project and most homeowners will never know if their seams are strapped until it is too late.  Make sure the fabricator you choose straps every seam – both shop and field seams.
Finished appliance edges – SPW surfaces adds an extra piece of solid surface material on all appliance edges (next to a fridge or range) so that the countertop underlayment will not be visible if the appliance is removed.  The finished appliance edge also ensures no water or spills run over the edge of the countertop and get on the underlayment causing it to rot or swell.
Proper cooktop preparation – Cooktops are where most solid surface warranty issues occur.  This is because drop in cooktops can create an immense amount of heat and special care must be taken to make the cooktop cutout heat resistant.  SPW takes four extra precautionary steps on each and every cooktop cutout to make sure your countertop will give you years of enjoyment.
SPW Surfaces cuts all cooktop cutouts with a router so the finished edge is smooth and free of any jagged edges that could be susceptible from cracking from heat.
SPW Surfaces also adds a small radius to the cooktop cutout to help it dissipate heat faster.
SPW Surfaces adheres cooktop blocks to the underside of the countertops in each of the four cooktop corners for extra strength and heat resistance.
SPW Surfaces places a layer of heat tape around the cooktop cutout to help divert heat away from your countertop.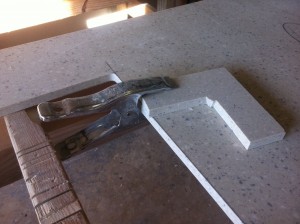 Returns on all corners – SPW Surfaces puts a finish edge on all countertop returns.  These are the 1″ to 1.5″ returns that go back to the wall or cabinet to make the coutertop look clean and finished.  Make sure your fabricator is finishing their returns and not just leaving you with a "block" edge.  A finished return is a small detail that has a tremendous impact on the countertops final aesthetics.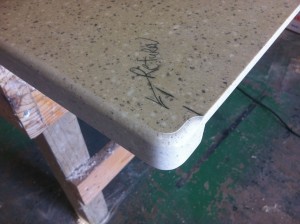 3/4″ inside corner radiuses – SPW Surfaces finishes all inside corners with a 3//4″ radius.  This provides additional strength and allows a nice radius to allow any finish edge detail you have chose.  This is another small detail that will make a huge impact on the final look and feel of your countertop.