For the last 10 years SPW has focused exclusively on solid surface countertops. However, our customers have come to trust us and have been asking us over and over again to offer a quartz countertop solution for them. It took us a while to find the right manufacturer to work with, but for our tenth anniversary we exclusively choose to offer Cambria quartz countertops.
There are many reason's we choose to partner with Cambria (you can read about them HERE), but most importantly our choice was made based on Cambria's commitment to innovation, the quality of their sales reps and their desire to deliver a customer experience that is second to none.
If you are looking for quartz countertops in Dallas, I highly encourage you to stop in and see the incredible designs offered by Cambria. We are confident you will fall in love with them just like we did!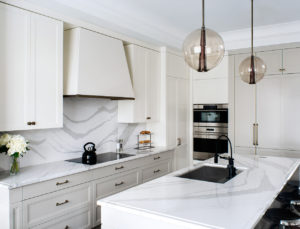 Cambria has 133 designs now and they cover the full spectrum from whites and creams to blacks and browns. Some of the quartz looks exactly like stone while others are a unique, fresh approach to designs everyone is raving about in natural stone. It used to be that all quartz looked like cheap speckled stone, this is so not the case any more. Today's quartz colors are truly amazing. We have fallen in love with Cambria's Brittanicca and we especially like the Oakmoor. The Oakmoor reminds of our favorite beaches and the fact that the level of veining found in Oakmoor and Roxwell can be achieved in natural quartz is a testament to the dedication and innovation of the team at Cambria.
We have long wanted to offer quartz to our customers. We have time and time again just sold our customers solid surface and told them we do not do natural stone and quartz. Several of our friends and family told us we were crazy and were just turning away business. They were right, but this did not worry us for a couple reasons.
1) We were committed to getting our business on the straight and arrow first and foremost with solid surface. Builders, GC's, designer and clients from all over North Texas count on us to deliver them unparalleled levels of customer service and quality solid surface products. We did not want to take on a new product line until we felt we were doing what we started with exceptionally well. We feel now that we are consistently delivering a finished solid surface countertop that exceeds customer expectations and now have the bandwidth to offer more options to our valued retail customers.
2) Granite is sold everywhere to anyone. Consumers love this, but they don't realize it is actually bad for them. With solid surface the materials are only sold to certified fabricators who hold true to the manufactures standards of quality and service (for the most part.) Granite, and consequently quartz distributors, will sell to anyone with a pulse. While there are countless excellent stone and quartz fabricators in the market there are countless others that have no business doing work for anyone. We have a hard time getting behind any product whose manufacturer will sacrifice the customer experience for a chance to make a few bucks and sell more slabs. The customer should come first all the time, every time – Cambria seems to exemplify this to us.
When the Cambria rep first approached us we at first just turned them down, like we have all the other manufacturer reps assuming that they just wanted to sell slabs and were willing to sell to everyone with a pulse. We feel that this is severly detrimental to the countertop industry and what is chiefly responsible for all of the horrible install work that plaques Texas. I cannot tell you how many manufacturers come by, drop off samples, offer to place sample towers at our shop, ask us to push their product and then never come back again. This really bothers us. It shows you don't care about us or the customer if we never hear from you again. How can we trust that you will be there to support us if there is ever a problem?
This was not the case for Cambria. They stopped in and told us about what makes Cambria special and sets them apart. They do not just sell to any fabricator. They only sell to those that deliver an exemplary customer experience and are committed to delivering the best quality and service. In fact, if a claim ever comes up that a partner does not take care of in a way that Cambria deems the correct way to handle, Cambria will pay another partner to correct the problem and decertify the offending partner so they can never create a bad experience with Cambria again. Wow, that is impressing – they had our attention.
We had a customer that we were doing a shower for, they inquired about whether or not we could do their kitchen in quartz. We told them that we had just started talking to Cambria about their quartz and that they should really see the slabs. We said that Cambria was not the cheapest, but it was a tremendous value considering their commitment to service, quality and the customer experience. So we met our customers at the Cambria showroom to look at the slabs. This customer fell in love with Cambria's Brittanicca. It really is an incredible design!
And that was how we did our first Cambria countertop. Finally we had found a quartz manufacturer that displayed the same values we cared about – the customer experience.
Even better was fact Cambria pushed us to better ourselves. We are in the process of becoming a premier dealer and are revamping our showroom and working on becoming better educators to the consumer on how quartz can help make their lives better in the kitchen. After spending time with the Cambria team we are challenging ourselves to have even better attention to detail and refine our processes further so that we can deliver an even better customer experience.
If is for these reasons that we are proud to offer Cambria quartz to our customers here in Dallas, Texas. We are confident that you too will choose Cambria just like we did.